2 Hospitality Marketing Ideas You Must Know
Issued by Green Tags & Card
It's tough out there! Competition is high and so are customer expectations. Meanwhile, resources are low. However, it is in this kind of environment that new marketing ideas are born! 每 new ways to get customers excited, earn their loyalty and encourage word-of-mouth advertising. Below are new ideas for common items that you may already spend money on 每 Do Not Disturb door hangers and hotel-branded luggage tags. With these ideas, common items deliver uncommon results!
1. Door Hanger With A Detachable Gift Card
The moment that a customer sets foot in their hotel room is a special one. You've already worked hard to ensure that it will be a great customer experience. Imagine how they'd feel if when they closed the door, they noticed a detachable gift card on the door hanger. "I chose a great hotel, at a fair price. I got a great room that is clean and perfect for relaxing. Now I see a gift card that reinforces that the hotel appreciates my business and is eager to make my stay the best it can be."
* $10 at XYZ store across the street
* $25 toward spa services
* $100 toward $1000 jewelry purchase at CCC Diamonds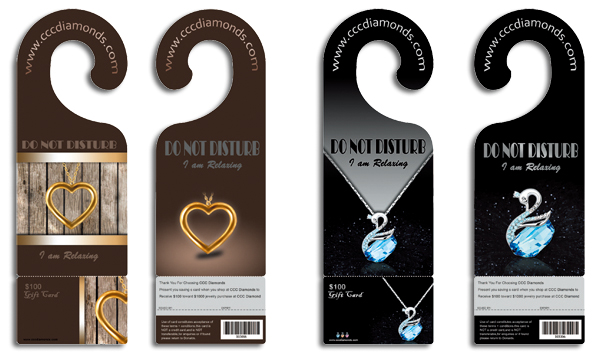 Different rooms can have different gift cards.
As you can see from the examples, the gift cards themselves don't have to be large or "real dollars" rewards. In most cases they are simply discounts. However, because they are presented on a detachable gift card, they have a higher perceived value. Further, because they are attached to the hotel Do Not Disturb sign, the reward appears to be a gift from the hotel, rather than just a promotional message from a hotel marketing partner.
Here's another tip. Use QR Codes on the door hanger and the detachable gift card. Doing so reminds the customer they are staying at an up-to-date hotel that understands how customers want to investigate offers, services, and hotel amenities.
Naturally, after the gift card has been detached, the door hanger still retains its functionality as a Do Not Disturb sign and can be used repeatedly thanks to its durability. You can either use these on low-cost rooms are retain them for future use.
2. Luggage Tag Set
Luggage tags are another low-cost marketing opportunity that is overdue for new ideas.
Many customers like to use luggage tags to differentiate their luggage from others and to show off where they have been. Some people actually collect them as free souvenirs. Below is an idea that will make luggage tags even more valuable to your customers, while increasing customer satisfaction, retention and referrals.
IDEA #1 每 Matched luggage tags and straps can be printed on environment friendly PET, a plastic-like substrate that allows for sharp graphics, great color saturation and durability.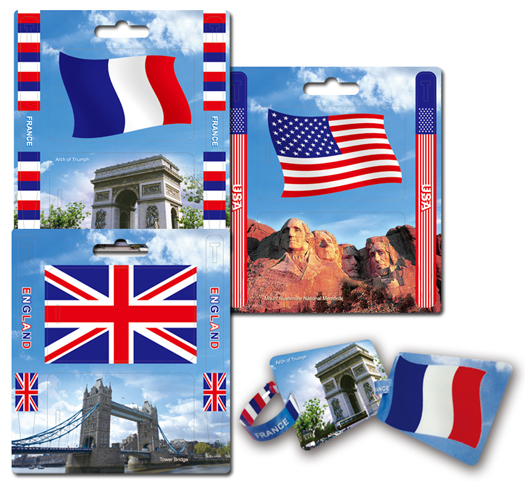 IDEA #2 每 A luggage tag set with a detachable gift card is something that your customers probably haven't seen before. If it has a QR code printed on it, the impression will be even more favorable. Just like the door hanger detachable gift card described above, a luggage tag set detachable gift card can provide discounts or dollars-off rewards for hotel services or area businesses.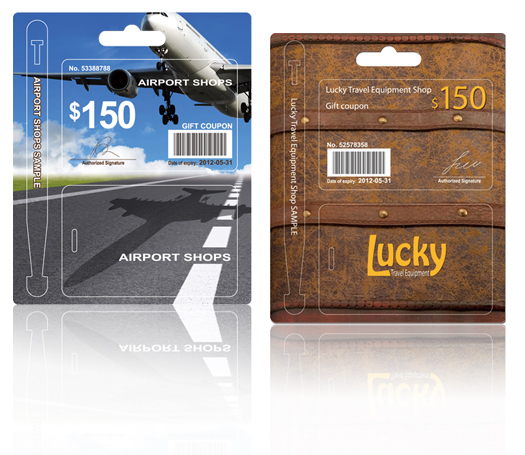 IDEA #3 每 Use different luggage tag set designs for different quality rooms. Customers love to feel special. Make sure your design matches up with the quality of room they have selected.
One more thing about QR Codes; Not only will they give your marketing materials an updated look and additional functionality, when they are scanned you have the opportunity to engage your customer online. There, they can acquire more information, provide feedback, provide their contact information, and much, much more.
It's a no-brainer when you find a marketing tool that can excite customers at such a low cost. Which idea are you going to implement? We are eager to hear from you so that we can help you improve customer satisfaction, retention and referrals.